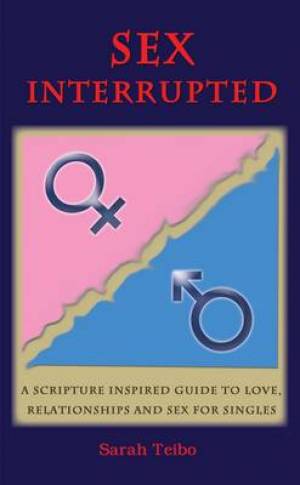 It is my pleasure to introduce Sarah Teibo the author of "Sex Interrupted", a book highly recommended for every single and even parents.
Sarah and I both worked in Accenture Lagos years ago and I knew her as a very sweet and friendly lady. We kept in touch on and off, and recently met up in the UK again. When I found out she wrote a book on Sex, I was so excited and knew we had to feature her on this blog. Y'all know we are passionate about this subject and we have talked a bit about Sex on this blog
here
and
here
.
Ok before I turn this into another blog post, please meet Sarah and what she has to say about her book "Sex Interrupted". Thank you Sarah for agreeing to this interview.
Blessings,
Aloted
*****************************************************
1.
Please tell us about yourself -
I am a Certified Accountant and currently work in one of the UKs biggest banks. When I'm not number crunching and trying to proactively manage my stakeholders, I enjoy singing and writing. My writing varies from writing music, to novels, to stage plays and Christian literature. In addition to this, I do a lot of motivational speaking. I am also married with a three year old daughter.
2.
When did you first consider yourself a writer?
I first found out about my writing abilities in Secondary School, when I scored high grades for writing original fictional stories. I knew I had the gift, but did not know I would one day call myself a writer.
3.
What books did you read growing up?
Pacesetter and Mills and Boon novels. There was hardly any Christian literature that addressed the youth and youthful interests.
4.
What books have influenced your life most?
Definitely the Bible
5.
"Sex Interrupted" I love the title- how did you come up with that title?
When I finished the first draft, I called it Sex and the Single. However, I wanted something catchy, something that would get people talking without giving too much away. And so Sex Interrupted was born.
6.
Is Sex Interrupted your first book? If not, how many books have you written published and unpublished?
It is my first published book. I'm working on a couple of books on relationships at the moment
7.
What is the inspiration behind Sex Interrupted?
I was motivated to write Sex Interrupted from my own personal experiences while dating my husband. Resisting the urge to have sex was one of my greatest struggles and in my quest to understand why love could make you do foolish things and how to repress the earnest yearnings of my flesh, I did some studying and research and ended up with the book. I also have a passion for enlightening young people on the truth about sex and to correct the misconceptions some have on this most interesting topic, so felt inspired to share it with the world.
8.
How long did it take you to write your book?
Writing the manuscript lasted just under two years
9.
What challenges did you face when writing your book?
The biggest challenge was probably writer's block
10.
So tell us a bit about the book- What genre of book will you categorise your book? Who did you write the book for?
My writing style in Sex Interrupted is very unique in that each chapter starts with a fictional story that many young single people can relate to and then goes on to practical Biblical principles and tips on the topic being addressed. This makes the book fit into quite a number of genres. I would categorise it as 'Christian', 'Relationships' and 'Romance'. Issues touched on in the book include pornography, sexual abuse, the reality of the Christian's struggle, overcoming sexual pressure from within, seduction, and a lot more. The target audience for this book is youth and singles, but I've had a number of parents who bought it and came back to me with great feedback, so I would say everyone could benefit from reading it.
11.
Is there a message in your book that you want to pass across to your readers?
Abstinence is difficult, but it is possible
12.
Should we expect more books from you?
Yes, I am currently working on a fiction novel on relationships
13.
What do you like to do when you're not writing?
Watch comedy
14.
For those who would like to buy your book, where can they get it from?
The eBook can be ordered from amazon by clicking
here
the hard copies can also be ordered on amazon by clicking
here
or by going to http://www.sarahteibo.co.uk/ (for those in Ghana and Nigeria)